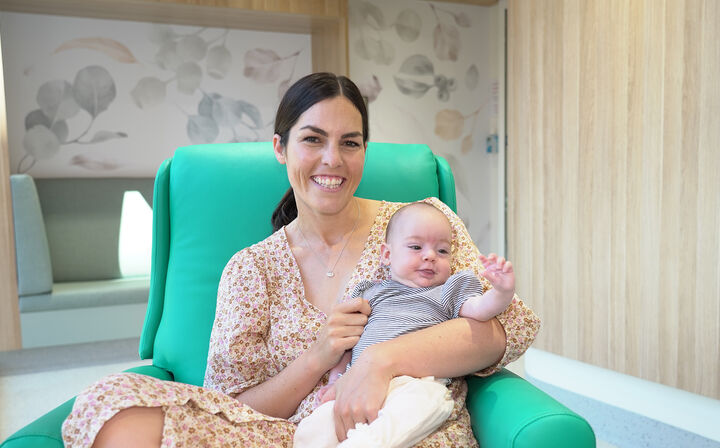 For parents of a premature baby, the joy of giving birth can quickly turn to a rollercoaster of emotions.
Carly is among those mothers, who have been through the journey, with daughter Marigold's first weeks of life spent at the Neonatal Intensive Care Unit (NICU) of the Women's and Children's Hospital after she was born at 25 weeks gestation.
"To have to leave the hospital each night without your baby is heartbreaking," Carly says.
"But, the care provided by Women's and Children's Hospital staff was incredible, and there was a real commitment to ensuring that Goldie was given the opportunity to grow and develop like any other child."
This included encouraging regular skin-to-skin contact aka kangaroo care (see below for more information on Kangaroo Care) between Goldie and her mum and dad, reading to her and setting up FaceTime calls with her big sister at home.
"The NICU team became like our family, with the hours of listening and being a shoulder to cry on or to share a joyous moment when Goldie hit a milestone," Carly said.
Little Goldie was described as a "tremendously fierce" fighter by her doctor at just two days old, and since leaving hospital in July 2021 she is thriving, being fully breastfed and breathing on her own after more than five months with oxygen support.
"She is growing and meeting her corrected-age milestones. Goldie is a smiley, beautiful baby girl. When we look at her, we still pinch ourselves that she's been through what she has," Carly said.
Worldwide, one in 10 babies is born pre-term, or at less than 37 weeks' gestation. Each year at the Women's and Children's Hospital we care for around 575 premature babies, with the average time spent in our neonatal nurseries being 21 days.
World Prematurity Day is a global movement to raise awareness of premature birth and the impact it can have on families.
The theme of the day is #lightitpurple with landmarks around the world, including in Adelaide, being lit up purple and people encouraged to wear purple to support the cause.
Children born prematurely may require ongoing support, which can be accessed across the Women's and Children's Health Network.
Learn more about the care for premature babies provided at the Women's and Children's Hospital at www.wch.sa.gov.au/premature.

What is kangaroo care and what are the benefits?
Kangaroo care, otherwise known as skin-to-skin care, is a way that parents can hold their baby directly against their bare skin. It encourages bonding with your baby and helps support their emotional and physical development. Both a mother and their partner – as well as the baby – can benefit from kangaroo care.
Benefits to baby:
maintains baby's body temperature
regulates baby's heart and breathing rates
encourages baby to spend more time in a deep sleep
increases baby's weight gain
improves oxygen saturation levels
can improve breast milk production and increases the chances of successful breastfeeding
longer periods of alertness
helps promote frequent breastfeeding.
Benefits to parents:
can build confidence
increases your bond with baby and can ease feeling of separation
can improve breast milk production and increases the chances of successful breastfeeding.